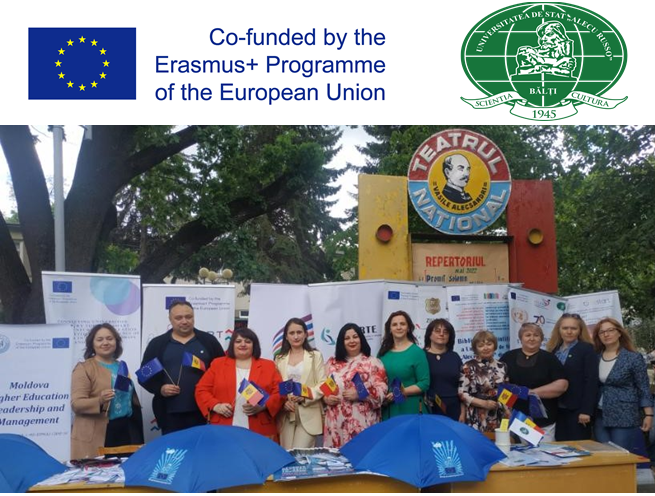 TÂRGUL PROIECTELOR ERASMUS+, EDIȚIA A VIII-A
În contextul celebrării Zilelor Europei în USARB și a Zilei Ușilor Deschise, Departamentul de Relații Internaționale a organizat Târgul Proiectelor Erasmus+, ediția a VIII-a, una din activitățile focalizate pe mesaje de solidarizare și promovare a păcii, facilitarea înțelegerii de către tinerii studioși a modului în care Comunitatea Europeană guvernează prin unitate, prin respectarea drepturilor omului și prin susținerea plenară a Republicii Moldova, în general, și a Universității, în particular.
Evenimentul Târgului Proiectelor Erasmus+, a fost inițiat și organizat de către doamna Valentina PRIȚCAN, Prorector pentru activitatea ştiinţifică şi relaţii internaţionale în anul 2018 și se află la cea de-a opta ediție.
Au fost prezentate proiectele aflate în desfășurare:
Suplimentar, a fost prezentată asigurarea sustenabilității pe proiectele finalizate:
Târgul Proiectelor Erasmus+, ediția a VIII-a, a fost vizitat de Iurie ȚURCANU, viceprim-ministru pentru digitalizare al Republicii Moldova, Excelența Sa Petrișor DUMITRESCU, Consulul General al României la Bălți, Nicolai GRIGORIȘIN, primarul de Bălți, Marin CIOBANU, administratorul Zonei Economice Libere Bălți, reprezentanți ai APL, parteneri de dezvoltare, manageri ai instituțiilor și organizațiilor partenere, oaspeți de rang înalt ai municipiului Bălți, studenți și personal academic, liceeni, părinți.
Vizitatorii au beneficiat de materiale promoționale, au primit răspunsuri la întrebări, au cunoscut specificul proiectelor de consolidare a capacităților, implementate cu implicarea USARB:
| | |
| --- | --- |
| | Introducing Problem Based Learning in Moldova: Toward Enhancing Students' Competitiveness and Employability (PBLMD), Project no. 561884-EPP1-2015-1-DK-EPPKA2-CBHE-JP. |
| | Library Network Support Services: modernising libraries in Armenia, Moldova and Belarus through library staff development and reforming libraries (LNSS), Project no. 561633-EPP-1-2015-1-AM-EPPKA2-CBHE-JP LNSS |
| | Creating Moldovan E-Network for promoting innovative e-teaching in the continuing professional education (TEACH ME), Project no. 561820-EPP-1-2015-1-DE-EPPKA2-CBHE-JP. |
| | European Human Rights Law for Universities of Ukraine and Moldova (HRLAW), Project no. 573861-EPP-1-2016-1-EE-EPPKA2-CBHE-JP. |
| | Elevating the Internationalisation of Higher Education in Moldova (ELEVATE), Project no. 573921-EPP-1-2016-1-MD-EPPKA2-CBHE-SP. |
| | Licence, Master professionnels pour le développement, l'administration, la gestion, la protection des systèmes et réseaux informatiques dans les entreprises en Moldavie, au Kazakhstan, au Vietnam (LMPI), Project no. 573901-EPP-1-2016-1-IT-EPPKAZ-CBHE-JP |
| | Reinforce entrepreneurial and digital skills of students and teachers to enhance the modernization of higher education in MOLDOVA, (RESTART), Project no. 585353-EPP-1-2017-1-RO-EPPKA2-CBHE-JP. |
| | Fostering university-enterprise cooperation and entrepreneurship of students via SMART Caffes (SMART), Project no.585620-EPP-1-2017-1- EL-EPPKA2-CBHE-JP. |
| | Moldova towards European University Lifelong Learning Model (COMPASS), Project no. 597889-EPP-1-2018-1-MD-EPPKA2-CBHE-SP |
| | Moldova Higher Education Leadership and Management" (MHELM), Project no. 609656-EPP-1-2019-1-MD-EPPKA2-CBHE-SP |
| | Introducing work-based learning in higher education systems of Armenia and Moldova for better employability of graduates" (WBL4JOB), Project no. 618801-EPP-1-2020-1-AM-EPPKA2-CBHE-SP |
| | Connecting universities-industry through smart entrepreneurial cooperation and competitive intelligence of students in Moldova, Georgia and Armenia (CONNECT), Project no. 617393-EPP-1-2020-1-MD-EPPKA2-CBHE-JP |
| | Enhancement of Quality Assurance in Higher Education System in Moldova (QFORTE), Project no. 618742-EPP-1-2020-1-MD-EPPKA2-CBHE-SP |
Mai multe detalii despre proiectele din cadrul programului Erasmus+, CBHE-Consolidarea capacităților în învățământul superior, implementate cu participarea USARB, găsiți la http://usarb.md/proiecte-internationale/ sau pe paginile oficiale ale proiectelor nominalizate.