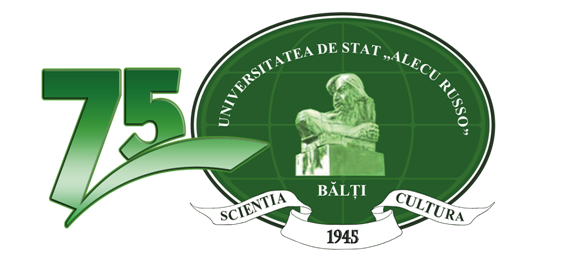 International Scientific Conference
Relevance and Quality of University Training: Competencies for Present and Future
dedicated to the 75th founding anniversary of Alecu Russo Balti State University
October 9
The International Scientific Conference Relevance and Quality of University Training: Competencies for Present and Future dedicated to the 75th founding anniversary of the university will be held on October 9, 2020, during the Anniversary Month of Alecu Russo Balti State University.
Thematic guidelines:
New expectations and challenges of university competence training for present and future;

Leadership and management in higher education;

Personnel management and organizational culture in HEIs;

Change management and organizational development of HEIs;

Entrepreneurial University: a new approach to entrepreneurship and innovation in the university environment;

Quality culture in the university framework;

The relevance of higher education in the context of skilled workforce insufficiency and of university education for a career;

The accomplishments in university research, innovation and creative activity;

Best practices of developing key-competences for lifelong learning;

Developing digital competences (e-competences);

Competence development in the domain of philological sciences;

Competence development in the domain of exact, economic and environmental sciences;

Competence development in the domain of arts and educational sciences;

Competence development in the domain of law and social sciences.
Other topics may be suggested, corresponding with the Conference thematic framework.
The papers will be written in Romanian, French, English, German, Russian and Ukrainian.
The Conference program will be elaborated after the participants subbmit their paper proposals. In order to be included in the program, please fill in the Registration Form.
Completed manuscripts for publication will be submitted before September, 11 2020 (electronic format) at USARB Department for Research (stiinta.usb@gmail.com)
The Conference Program will be timely published on Alecu Russo Balti State University website (http://www.usarb.md).
The requirements for paper formatting can be found here.